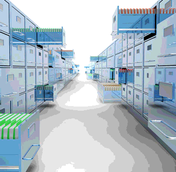 Following the introduction of the U.S. Food and Drug Administration Food Safety Modernization Act (FSMA) in 2011, it became increasingly clear that food manufacturers and distributors actively ensure contaminants in the food supply are prevented. This 'dream' document contains many ideas on logging the supp;y chain. I personally think that this would be an excellent use of block chain technology because each step in the supply chain could be permanently available to easily track down sources of food contaminants.
Overview
A lot of this is record keeping and availability of those records. The FSMA states:
Any food that could be a reasonable cause of adverse health consequences, sickness, or death to humans or animals
Each food industry entity (EXCLUDING FARMS AND RESTARUANTS), who manufacture, process, packs distributes, resells, holds, or imports such foods, Shall at the request of an official with appropriate credentials, and a written notice to such
persons
Make access available and to copy all records related to such foods and any other food that could be could be applicable, and the foods themselves.
This applies to all records relating to manufacturing, processing, packing, distributing, receipt, holding, or importation of such foods, or records held by any party involved in this process in any form or any location.
Despite these efforts, great strides in food manufacture ring and distribution have now seen great success. The main element of the USDA FSMA are to consider other source of contamination (other than physical, chemical, and biological).
Such The operator shall identify and evaluate known or reasonably foreseeable hazards that may be associated with the facility, including biological, chemical, physical, radiological hazards, natural toxins, pesticides, drug residues, decomposition, parasites, allergens, and unapproved food and color additives, and a written analysis of these hazards. (added in the FSMA).
Preventive Controls
The operator shall identify and implement preventive controls, including at critical control points, if applicable, to provide assurances that hazards identified in the hazard analysis previously concluded will be significant in minimizing, preventing, and addressing the food manufactured, processed, packaged, or held by such facility and will not be adulterated, mis-branded or mislabeled.
A common point of these contaminations stems from the distribution chain, identified post-outbreak through a comprehensive record review. So, if regulations on the front-end of the food supply can't identify food contamination before it gets distributed to consumers, what can be done? The answer is surprisingly simple—food suppliers must ensure they have an information management system in place that can comprehensively and easily track all records on the back-end.
Records and record availability
Intelligent information management is especially crucial for food manufacturers and distributors to maintain high-quality products—as well as a good reputation and track record of trust with suppliers and customers.
These resources must be readily available, especially depending on the amount and type of documents needed based on a supplier's risk level. After all, food manufacturers and distributors aren't only in the business of food ingredients—we're also in the business of information management to maintain our core principles of quality, truth, and service.
Throughout the industry, it's not uncommon to track documents and business processes manually in a spreadsheet, with files saved across multiple network folders. Remember, contamination stems from the distribution chain. If documents, resources, and processes aren't easily accessible and referenceable, the challenges of ensuring food safety increase significantly. Again I think that a universally mandated block chain site be erected and its use required of all manufacturers and distributers.
We should ask these questions in any document flow:
• Could any document be found easily, regardless of where it's stored?
• Could it protect sensitive information while being readily accessible to the right people at the right time?
• Can critical supplier qualification tasks be defined in a workflow, preventing the approval of a supplier until a complete evaluation has been performed?
• Can these review tasks be set to recur at defined intervals, to ensure that the supply chain is periodically (and thoroughly) reviewed?
With an intelligent information management solution implemented throughout our quality, documentation and product management departments, we've been able to process requests much faster by gaining visibility to the process. There is now no need for us to maintain a separate spreadsheet on the process; we're able to get all requested, up-to-date information available into our customers' hands. For expiring documents, we have visibility into when they expire, and can take a proactive approach to renewing the information. Again, block chain techology could accomplish all these goals with ease,.
While workflow was our primary focus, other important information management elements weren't—and should never be—neglected, including security, automation, and reducing regulatory risk. These details can make or break your customer and suppliers' trust and should be carefully considered when thinking through organizing one's resources.
In short, you may be wondering, "Is proper information management the answer to preventing future food contamination?" While most recalls are a result of poor food safety practices that occur in the distribution chain, it's difficult to say it'll be fully stymied, especially following the food preparation phase. However, every food processing organization has the option to do its due diligence to protect the population from devastating nationwide foodborne illnesses. By implementing an intelligent information management system on the back-end to proactively and automatically handle time- and information-sensitive documents for suppliers and customers, we'd all be one step closer to saving the food industry, economy, and, most importantly, lives each year.
I have never heard of a better use of block chain technology.
References
1. www.cdc.gov/foodsafety/foodborne-germs.html.
2. www.cdc.gov/foodsafety/cdc-and-food-safety.html.
3. www.cdc.gov/foodsafety/outbreaks/multistate-outbreaks/outbreaks-list.html.
4. www.cdc.gov/foodsafety/outbreaks/investigating-outbreaks/index.html.
By Lisa gene Cox
Texas Best Food Services Training
January 2019