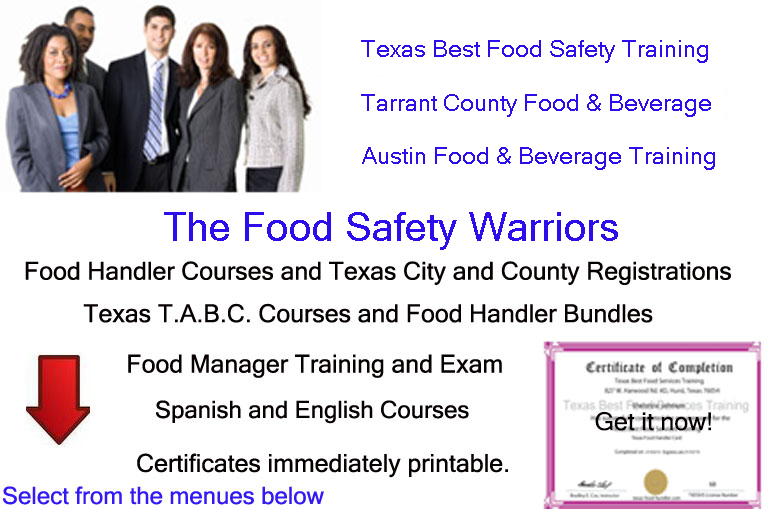 ALL COURSES AND TESTS ARE OFFERED IN SPANISH AND ENGLISH.
Our Texas Food Handler courses are movie based. No reading, and NO TEST!
Food handler & TABC 17.99!
-Note: We cannot process pre-paid debit cards which do not have a billing address. We will email you a copy of your certificate. Our email server will not process hotmail accounts 'yourname@hotmail.com'.




Texas Food Handler certifications, Tarrant County, Williamson County, City of Austin Registrations, Food Manager, and TABC Training and Certification. All courses in Spanish and English.
Some course contents are provided through a VAR agreement with 360training.com, Learn2Serve.
We also offer Food Handler, Food Manager, and Alcohol Server Seller in most other states —Check it out!—
By clicking a TABC course link above, you will be redirected to the Learn2Serve website. As the provider of this course, Learn2Serve will ask for personally identifiable information required by TABC and necessary to complete the course. Clicking Enroll Now will not charge you any fees; however you can refuse to be transferred to this website by choosing not to click Enroll Now.
— TABC Certification course approved by State of Texas (Course #454-508)
Other Courses and Information provided
We provide online, classroom, and on-site training in Tarrant County and Austin Texas.
Tarrant County Food Handler Classroom Training
Our Texas Food manager site provides help in preparing you to pass this grueling test. Go to our Food Manager site for details.
Texas Food Manager
Our TABC Certification web-site
The Food Handler Education or Training Program came from a Senate Bill of the 80th Legislature, regarding the accreditation of basic food safety education or training programs for food handlers.
The rule is meant to supply data for the certifying food safety education or coaching programs for food handlers. a daily customary governing the enfranchisement of food handler programs helps cut back redundancy in state agencies, so less expense. Education of the food handlers provides higher qualified workers, thereby reducing the danger of food-borne sickness outbreaks caused by improper food preparation and handling techniques.
The Texas Department of State Health Services, the Food Handler Program, along with the the Certified Food Manager Program, promotes the health and safety of the citizens of the state by educating food service employees in the principles of food safety to produce safe food products for Texas consumers.
State Laws place the food safety of a food institution on the Certified Food Manager of the operation. However, several cities and counties are progressively requiring certified food handling safety coaching for all staff, and a few need that this certification be registered with them. visit your native health department to make certain. there's a link on this web site with the phone numbers of native health districts.
This Texas Food Handlers Card Safety Course is approved by the Texas Department of State Health Services
Certification is valid for 2 years from the date of course completion
Online Course is approximately 2 hour long
NO final exam
Printable Texas food handlers certificate (card), available upon completion.
English and Spanish courses available.
This course provides information on many topics related to safe food handling.
You may also want to check out our Frequently Asked Questions Page, and occasionally we offer specials on the specials page.
Food safety includes storing food at the proper temperature before and after preperation to limit microbial growth as much as possible. If it is a food which requires cooking, it must be cooked to the proper temperature. The ONLY way to tell the temperature is to use a food thermometer. You cannot tell by looking. If you do not use a food thermometer you are playing Russian Roullete with your life and your customers life. Food must be kept in totally sanitary condiitions away from other foods or dirty surfaces.
Page last modified on December 9th, 2016 at 4:56 am,