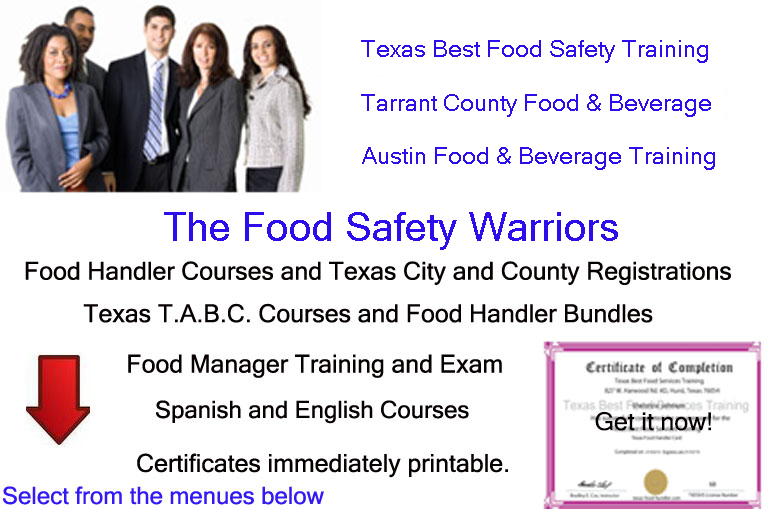 Texas Food Handler $5.95 to $7.95. TABC $10.99. TABC and texas Food Handler $16.99. Food Manager training & Exam. A Lisa gene Cox endeavor.
problems, questions, desires – call 469-353-0696.
Select from the courses below:





Texas Food Handler certifications with optional registration in Tarrant County, Williamson County, City of Austin COA, Houston / Harris County and San Antonio / Bexar County. We also provide Food Manager, and TABC Training and Certification. All courses offered in Spanish and English.
Texas Best Food Services Training is a food Services Safety company operating under a State of Texas DSHS License. We provide food safety training online or in person. We are not sales persons selling courses like other companies on the internet. We can answer food safety issues as well as login or other problems. Call our competitors customer service and ask what what the required illumination must be in a walk in cooler. Try it. Then call us and ask questions such as those. That is the difference.
HACCP
I highly recommend taking the training and implementing a HACCP based food safety management system. This is the wave of the future. HACCP if required by the FDA for Juice processors, and by the USDA for meat and poultry processors and packagers. Soon eggs will be added to this list. There is no better way to cover your hiney if something goes wrong. Phone support for understanding HACCP, and implementing it in your situation is included for Students of our HACCP University.
TX DSHS Licensed Food Handler Trainers web page.

TO RETURN TO A COURSE IN PROGRESS:
Log in, then Hover over "Spanish Food Handler Lessons", or "English Food Handler Lessons" Click on the movie that you are on.
PARA RETOMAR un CURSO en PROGRESO:
sesión, después situar el cursor sobre "Clases de controlador de alimentos español", o haga clic en "English clases de alimentos" en la película que está en.
TO REPRINT YOUR CERTIFICATE:
LOG IN, then "Reprint Certificate" will be in the above menu.
Para volver a IMPRIMIR SU CERTIFICADO:
LOG IN, luego "reimpresión certificado" estará en el menú de arriba.
Some course contents are provided through VAR agreements.
Texas Food Handler
A new version of the Texas Food Establishment Rules, TFER, was passed in 2016. have updating our curriculum to reflect those changes. The new TFER is available for download on the Department of State Health Services Website (DSHS). DSHS.gov
We provide Texas Food Handler online, classroom, and on-site training in Tarrant County and Austin Texas. We are trying to expand with a Houston office.
Tarrant County Food Handler Classroom Training
The Food Handler Education or Training Program came from a Senate Bill of the 80th Legislature, regarding the accreditation of basic food safety education or training programs for food handlers.
The rule is meant to supply data for the certifying food safety education or coaching programs for food handlers. a daily customary governing the enfranchisement of food handler programs helps cut back redundancy in state agencies, so less expense. Education of the food handlers provides higher qualified workers, thereby reducing the danger of food-borne sickness outbreaks caused by improper food preparation and handling techniques.
The Texas Department of State Health Services, the Food Handler Program, along with the the Certified Food Manager Program, promotes the health and safety of the citizens of the state by educating food service employees in the principles of food safety to produce safe food products for Texas consumers.
State Laws place the food safety of a food institution on the Certified Food Manager of the operation. However, several cities and counties are progressively requiring certified food handling safety coaching for all staff, and a few need that this certification be registered with them. visit your native health department to make certain. there's a link on this web site with the phone numbers of native health districts.
This Texas Food Handler Card Safety Course is approved by the Texas Department of State Health Services
Certification is valid for 2 years from the date of course completion
Online Course is approximately 2 hour long
NO final exam
Printable Texas food handlers certificate (card), available upon completion.
English and Spanish courses available.
This course provides information on many topics related to safe food handling.
Texas Food Handler safety includes storing food at the proper temperature before and after preparation to limit microbial growth as much as possible. If it is a food which requires cooking, it must be cooked to the proper temperature. The ONLY way to tell the temperature is to use a food thermometer. You cannot tell by looking. If you do not use a food thermometer you are playing Russian Roulette with your life and your customers life. Food must be kept in totally sanitary conditions away from other foods or dirty surfaces.
Page last modified on March 16th, 2018 at 12:05 pm,