Unless Food Safety Problems are kept under control, they could result in financial ruin for your business. A quality Food Safety Management System, based on the latest scientific research, and implemented with a proactive management system is the best way to ensure that your food is safe for the public, consistently produced and accurately presented, and that you stay in business.
THE HACCP UNIVERSITY
Your Answer to Food Safety
This course was produced by Texas Best Food Services Training. It is being implemented on our sites and is valid in all states.
This course provides you with a "roadmap" for developing and implementing a Food Safety Management System based on Hazard Analysis and Critical Control Point (HACCP) principles. By developing and implementing a Food Safety Management System in this manner, you can take a proactive role in ensuring that the food served or sold in your establishment is safe. Rather than responding to a foodborne illness when it occurs, you can prevent it by taking active steps to eliminate, prevent, or reduce to an acceptable level food safety hazards that cause someone to be sick or injured.
If you already have an existing food safety management system, you may use the concepts in this course to upgrade the system you have in place. Whether you are developing a new food safety management system or upgrading the one you currently have, this course will provide you with the best techniques, forms, and procedures for doing so.
This course will soon be updated with information on HARPC and the FDA Food Safety Modernization ACT (FDA FSMA).
We also provide support in your implementation of YOUR HACCP Program. We are here not only for billing issues, we are here for HACCP issues. An instructor is always available in the office. We are a Food Safety Training Company which also provides online Food Safety Instruction. As far as we know, we are the only company providing this type of support. We also give you life-long access to this course and our extensive collection of HACCP manuals, forms, and SOP's.
Only $49.95. Compare ALL other HACCP courses at from $75.00 to $125, with only 30 days of course access!

This course is fully compliant with the HACCP requirements of NACMCF (National Advisory Committee on Microbiological Criteria for Food), Codex Alimentarius, ISO 22000, 2013 FDA Food Code, FDA HACCP Managing Food Safety, and the USDA HACCP manual.
This issue does not change from state to state like Food Handler Training and Food Manager Training. It is the uniform in all states, and Codex Alimentarius is trying to make it uniform in all countries. Several have already adopted these standards.
If you really want to learn the HACCP principles and how to apply them in a Food Management System, this is your golden opportunity. Once you enroll, you will have life long access to the HACCP 101 course and our extensive colleciton of HACCP instruction manuals, SOP's, and oher HACCP documents.
After completing this course, 4 to 6 hours seat time, you will have the knowledge to create HACCP Based Food Safety Management Systems. The course is self paced. You can log in and out of this course for life. You are always welcome to come back and review issues or find recent updates, forms, publications, and support to complete your HACCP needs. And you get this HACCP certification with your name and registration number included: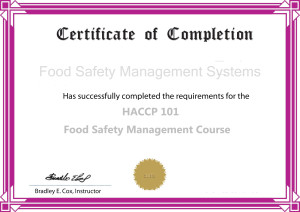 This HACCP course was developed over a six month period by studying the currently best resources like the FDA HACCP Manual, the USDA HACCP Manual, and the 2013 USDA Food Code. This program was then tested by implementing this training on 25 different restaurants to ensure quality, accuracy, and implementability. After fine tuning it, we are convinced that this is the best HACCP training available.
THE HACCP UNIVERSITY offers what no other HACCP course offers. We support HACCP issues just as much as we would support a billing issue. Submit a support ticket and we will work with you to resolve the issue. This was considered necessary from our initial design because Food Safety Management Systems based on HACCP concepts are all unique due to the extreme diversity encountered in our industry. Consider the huge number of products we produce.
By choosing THE HACCP UNIVERSITY, you are not only receiving training in HACCP. You are insured of being able to design and implement a workable Food Safety Management System based on HACCP principles.
While every player in the flow of food from farm to table has some degree of responsibility for food safety, we are usually the last line of defense before food reaches the consumer. Because of this, we have a significant share of the responsibility for ensuring safe food. By developing a Food Safety Management System, you can better ensure that the foods served or sold in your establishment are safe and of consistent quality.
The Goals of HACCP
Hazard Analysis and Critical Control Point (HACCP) is a systematic approach to identifying, evaluating, and controlling food safety hazards. Food safety hazards are biological, chemical, or physical agents that are reasonably likely to cause illness or injury in the absence of their control. Because this program is designed to ensure that hazards are prevented, eliminated, or reduced to an acceptable level before a food reaches the consumer, it embodies the preventive nature of "active managerial control."
Active managerial control through the use of HACCP principles is achieved by identifying the food safety hazards attributed to products, determining the necessary steps that will control the identified hazards, and implementing on-going practices or procedures that will ensure safe food.
Like many other quality assurance programs, HACCP provides a common-sense approach to identifying and controlling problems that are likely to exist in an operation. Consequently, many food safety management systems at the retail level already incorporate some, if not all, of the principles of HACCP. Combined with good basic sanitation, a solid employee training program, and other prerequisite programs, a food safety management system based on HACCP principles will prevent, eliminate, or reduce the occurrence of foodborne illness risk factors that lead to out-of-control hazards.
HACCP represents an important tool in food protection that small independent businesses as well as national companies can use to achieve active managerial control of risk factors. The Food Code requires a comprehensive HACCP plan when conducting certain specialized processes at retail such as when a variance is granted.
In general, its implementation at the retail level is voluntary. FDA endorses the voluntary implementation of food safety management systems based on HACCP principles as an effective means for controlling the occurrence of foodborne illness risk factors that result in out-of-control hazards.
While the operator is responsible for developing and implementing a system of controls to prevent foodborne illness risk factors, the role of the regulator is to assess whether the system the operator has in place is achieving control of foodborne illness risk factors. Using these principles during inspections will enhance the effectiveness of routine inspections by incorporating a risk-based approach. This helps inspectors focus their inspection on evaluating the effectiveness of food safety management systems implemented by industry to control foodborne illness risk factors.
The principles of HACCP are also an integral part of the draft FDA's Recommended Voluntary National Retail Food Regulatory Program Standards. For regulatory program managers, the use of risk-based inspection methodology based on HACCP principles is a viable and practical option for evaluating the degree of active managerial control operators have over the foodborne illness risk factors.
Only $49.95. Compare ALL other HACCP courses at from $75.00 to $125, with only 30 days of course access!

The Principles of HACCP
Hazard Analysis and Critical Control Points (HACCP) is a type of preventive food safety system that involves identifying physical, biological and chemical hazards right during food handling and preparation stage. In the United States, the Department of Agriculture (USDA) and Food and Drug Administration (FDA) are in charge of implementing mandatory HACCP training programs for meat, seafood and juice handling. Generally, however, HACCP is a voluntary type of training but may be used by any food service business for its wide-ranging benefits. HACCP is the best current thoughts about how to keep food safe.
Hazard Analysis. This involves deconstructing the production process and identifying the physical, chemical and biological hazards present in each process. Control measures have to be planned during this stage.
Critical Control Points. Critical control points are the phases of the production process where you apply control measures that will contain and eliminate existing risks and make food safe for consumption.
Critical Limits. The critical limit is the safety limit to which the hazard can be safely controlled. It essentially draws the line between safe and unsafe food handling and storage.
Monitoring. The US Food Safety Inspection Service enforces the inclusion of monitoring activities in a business's HACCP plan. Monitoring activities should be established to make sure that hazards are controlled at each CCP.
Corrective Actions. These are procedures that are conducted as a means of correcting deviations from the set critical limits at each CCP. These procedures intend to ensure that the food poses no harm to consumers because of the deviation.
Verification. Verification procedures review the effectiveness of the HACCP system in controlling hazards. These activities include but are not limited to quality checks, food samplings and microbial testing.
Record Keeping. Documents provide proof that the HACCP system is working effectively. It includes anything from changes in the HACCP plan implementation, monitoring and verification activities, critical control points and limits set by the business, to invoices and receipts.
The Implementation of HACCP
Just like a well-played chess game, building a food safety management system takes time, patience, and determination. Careful consideration must be given to all aspects of your operation affecting food safety. To assist you in building your food safety management system, a series of procedural steps have been developed to guide you through the process.
The ideal progression of building a food safety management system according to this system is as follows:
Assemble Your HACCP Team
Procedural Step 1 (Develop Prerequisite Programs)
Procedural Step 2 (Group Menu Items/Products)
Procedural Step 3 (Conduct Hazard Analysis)
Procedural Step 4 (Implement Control Measures and Establish CriticalLimits)
Procedural Step 5 (Establish Monitoring Procedures)
Procedural Step 6 (Develop Corrective Actions)
Procedural Step 7 (Conduct Ongoing Verification)
Procedural Step 8 (Keep Records)
Procedural Step 9 (Conduct Periodic Validation)
Your HACCP program
After understanding HACCP and how to implement these principles into a Food Management System, we provide the resources for you to accomplish this in your business. If you get stuck, we are here to keep you going forward in your development of an effective, scientifically designed, HACCP based Food Safety Management System.
Your Golden Oppotunity to get it right!
Only $49.95. Compare ALL other HACCP courses at from $75.00 to $125, with only 30 days of course access!

Page last modified on September 15th, 2018 at 3:57 pm,