ENGLISH Language Courses
Complete State of Texas Food Handler Certification $9.95
2. – City of Austin Food Handler $6.95
3. – Tarrant County Food Handler $5.95
4. – Williamson County Food Handler $9.95
5. – Houston / Harris Food Handler $6.45
6. – San Antonio / Bexar food Handler $6.75.
7. – El Paso Food Handler $6.95
8. – Texas Food Manager Training $45.00
Spanish Language Courses
Complete State of Texas Food Handler $9.95

8. General State Wide Food Handler $7.95
9. – City of Austin Food Handler $6.95
10. – Tarrant County Food Handler $5.95
11. – Williamson County Food Handler $9.95
12. – Houston / Harris Food Handler $6.45
13. – San Antonio Food Handler $6.75
14. – El Paso Food Handler Spanish $6.95
Texas Food Handler NOTES:

1. Williamson County. Effective June 13, 2017, Williamson County no longer issues Food Handler Cards. State of Texas Certification is all that is required in Williamson County to serve open food.
2. The City of Plano no longer requires you to register your state food handler's credentials with them. If you serve food in Plano, choose option 1 or 8 above.
3. Tarrant County no longer accepts transfers (Aug 2016). However, Texas Best Food Services Training courses have been specifically approved by the Tarrant County Health Department, and will be recognized on site as valid.
4. The City of Austin no longer requires us to pay $12.00 to register your certificates with them (5/25/2015). That brought the price down from $19.95 to $5.95.
5. National ANSI course: After being transferred to this site, scroll to the bottom. Spanish ANSI course is fourth from the bottom. English ANSI course is fifth from the bottom.
6. We have bright new shiny easier Texas food handler courses, recently (Dec. 2016), approved by the Department of State Health Services, DSHS, to meet new state requirements which recently became law.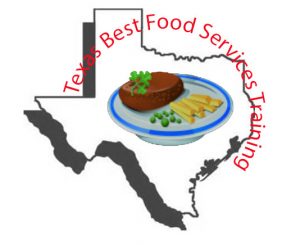 Texas Food Handler cards $5.95 to $7.95 . The State of Texas requires this training and certification to serve open food in the State of Texas. Movie based. No reading, and no stinking test! Which others make you suffer through. Watch 5 short movies, you're done! Instantly printable certificate. You can do this on your phone. We will follow up with an emailed certificate.
Tarjetas de manipuladores de alimentos de Texas $5.95 a $7.95. El estado de Texas requiere que esta formación y certificación para servir comida abierta en el estado de Texas. Película basada. No hay lectura y no prueba que apesta! Que otros te hacen sufrir con. Ver 5 películas cortas, listo! Certificado para imprimir al instante. Puede hacerlo en el teléfono. Carta recordativa con un certificado enviado por correo electrónico.
Page last modified 02/07/2021