Witchita Falls Witchita County Food Handler Card. $7.95
No Reading. No Test. Certificate printable upon completion of course.
Offered in Spanish and English.
Witchita Falls Witchita County Food Handler Card
Wichita Falls-Wichita County Health District Sec. 26-548. Training courses accepted.
The regulatory authority shall accept training issued by all companies or programs approved by the Texas Department of State Health Services under 25 TAC 229.178. This inclueds Texas Best Food Services Training. Texas Department of State Health Services Food Safety Program Licence # 68. Persons who have completed such training shall make application to the regulatory authority for food handler's training certification and pay the appropriate fee to be registered as a food handler.
Food handler training is required for any individual working in a food service establishment in Witchita Falls or Witchita County.Classes provide training in proper food handling, which is required to obtain a food handler certificate. Classes are offered each month by the Health District to ensure that establishements and food handlers receive the required training. Classes are offered in English and Spanish .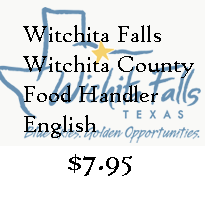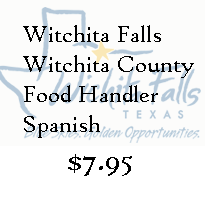 The Food Handler Education or Training Program came from a Senate Bill of the 80th Legislature, regarding the accreditation of basic food safety education or training programs for food handlers.
The rule is meant to supply data for the certifying food safety education or coaching programs for food handlers. a daily customary governing the enfranchisement of food handler programs helps cut back redundancy in state agencies, so less expense. Education of the food handlers provides higher qualified workers, thereby reducing the danger of food-borne sickness outbreaks caused by improper food preparation and handling techniques.
The Texas Department of State Health Services, the Food Handler Program, along with the the Certified Food Manager Program, promotes the health and safety of the citizens of the state by educating food service employees in the principles of food safety to produce safe food products for Texas consumers.